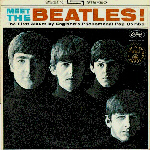 Take a look at the hard to find collection of every album recorded by The Beatles and released in the United States. I'm glad I bought them all then!
The Beatles American Albums
Here we will take a look at all of the American albums released by The Beatles between July 22, 1963 and May 18, 1970. All of these albums issued in the United States were released by Capitol Records, except one, their first album, released by Vee Jay Records. There are other American releases that will be added later on, but here we shall take a look at the original releases.
So now let's take a look at these historic albums, their covers, the songs, the lyrics and what they mean, listed below in the order in which they were released.
To take a look at any respective album, click on its link below. As this is a work in progress, not all the album links are operational. All the albums will be completed soon, so please stop back as we travel back in time with The Beatles American Albums. Noted next to each album name is its release date.
1.) Introducing The Beatles -- July 22, 1963
2.) Meet The Beatles! - January 20, 1964
3.) Introducing The Beatles - January 27, 1964 (Reissue)
4.) The Beatles Second Album - April 10, 1964
5.) A Hard Day's Night - June 26, 1964
6.) Something New - July 20, 1964
7.) The Beatles' Story - November 23, 1964
8.) Beatles '65 - December 15, 1964
9.) The Early Beatles - March 22, 1965
10.) Beatles VI - June 14, 1965
12.) Rubber Soul - December 6, 1965
13.) "Yesterday...And Today" - June 20, 1966
14.) Revolver - August 8, 1966
15.) Sgt. Pepper's Lonely Hearts Club Band - June 2, 1967
16.) Magical Mystery Tour - November 27, 1967
17.) The Beatles (The White Album) - November 25, 1968
18.) Yellow Submarine - January 13, 1969
19.) Abbey Road - October 1, 1969
20.) Hey Jude - February 26, 1970
---
NOTE: All lyrics contained herein are ©Copyright Northern Songs, unless otherwise noted. The Songs of The Beatles, music and lyrics by John Lennon, Paul McCartney or George Harrison or Richard Starkey or Lennon-McCartney-Harrison-Starkey © Northern Songs, Music Sales Group, Ltd. All Rights Reserved. International Copyright Secured. The lyrics contained herein are for the sole use of educational reference for the readers of this article. All other uses are in violation of international copyright laws. This use for educational reference, falls under the "fair use" sections of U.S. copyright law. Copyright © 2000-20221 by John T. Marck. All Rights Reserved. This article and their accompanying pictures, photographs, and line art, may not be resold, reprinted, or redistributed for compensation of any kind without prior written permission from the author, or the registered copyright holders. Except as otherwise stated above, all information contained in this article, EXCEPT song titles, lyrics, and photographs © John T. Marck. The Beatles ® and Apple, Ltd. ® are registered trademarks of The Beatles, ©The Beatles.
---
A Splendid Time Is Guaranteed For All
---