The Wedding and Ballad of John and Yoko
By John T. Marck
Learn all about the wedding of John and Yoko, and the song, The Ballad Of John And Yoko, that describes their wedding. Lots of Great Pictures!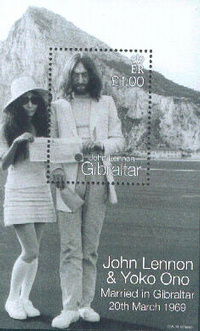 John Lennon's song, "The Ballad Of John And Yoko," is that which describes his wedding to Yoko Ono on March 20, 1969 in Gibraltar, and their succeeding "honeymoon," in Amsterdam.
Recorded by The Beatles, or more exactly John and Paul, on April 14, 1969, it was released in the United Kingdom on May 30, 1969, and in the United States on June 4. In both releases, its B-side was "Old Brown Shoe", a song written by George Harrison.
John Lennon once said that "songs should be like newspapers," and "The Ballad Of John And Yoko," was just that. Lennon portrays himself and Yoko as victims who were about to be "crucified," and who were turned back at the Southampton docks; who could not get a marriage in France; and who were misunderstood during their "bed-in for peace," as well as ridiculed when they sat in a bag.
In truth, what Lennon did not mention in this song was they were turned back at Southampton not because of whom they were, but merely because they tried to travel into France without passports. The plane that Lennon describes that they "finally made into Paris," was not a scheduled commercial flight, but an executive jet that he and Yoko quite impatiently waited for upon their realizing that they could not get married on the Channel ferry.
John and Yoko's decision to get married came quite suddenly on March 14, 1969, just two days after Paul McCartney married Linda Eastman. On March 14, John and Yoko were being driven to Poole in Dorset to visit John's Aunt Mimi. John asked his chauffeur, Les Anthony, to go to Southampton and ask about the possibility of getting married at sea. Upon learning that this was not possible, Lennon decided to go to Paris, and called his office instructing his staff to arrange a quiet wedding there. Peter Brown discovered that getting married in Paris on such short notice was impossible, but that they could marry in Gibraltar, because it was a British protectorate, and Lennon was a British citizen.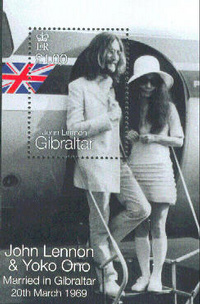 So, on March 20, 1969, John & Yoko, in a private plane, flew to Gibraltar and went directly to the British Consulate whereby they were married in a ten-minute ceremony performed by the registrar, Cecil Wheeler. In less than one hour, the couple were off again, this time en route to Amsterdam where they have reserved the Presidential Suite at the Hilton Hotel for their honeymoon.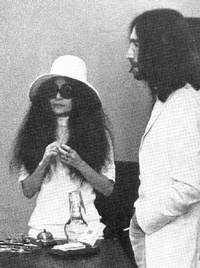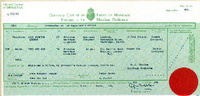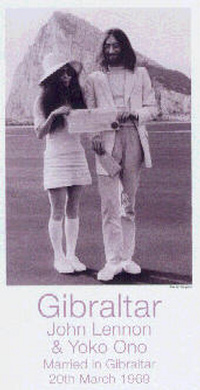 But, rather than have a private honeymoon as most people do, John & Yoko invited the world's press corps to invade their bedroom, allowing the press access between the hours of 10:00 a.m. and 10:00 p.m.
As John and Yoko had appeared naked on their "Two Virgins" album, the press was hopeful that they might consummate their marriage in public as well.
But upon the arrival of the many members of the press at Suite 902, they found John & Yoko neatly dressed in pajamas, sitting in bed, and discussing the topic of "peace."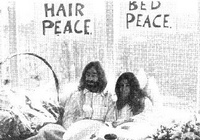 But, the press turned out to be satisfied, as they were always on the look out for stories on The Beatles and John was always trying to find a way to discuss his message of peace. This became known as the Amsterdam "Bed-In" around the world.
For the next seven days, John and Yoko discussed for the world to see, their message and views of peace, while the media covered it on newspapers, magazines, television and radio around the world.
John and Yoko did many live interviews for American radio, and made a 60-minute documentary of the events. In describing the "bed-in," John said:"Yoko and I are quite willing to be the world's clowns, if by doing it we do some good. For reasons known only to themselves, people to print what I say. And I'm saying peace. We're not pointing a finger at anybody. There are no-good guys and bad guys. The struggle is in the mind. We must bury our own monsters and stop condemning people. We are all Christ and Hitler. We want Christ to win. We're trying to make Christ's message contemporary. What would he have done if he had advertisements, records, films, TV and newspapers! Christ made miracles to tell his message. Well, the miracle today is communications, so let's use it." After leaving Amsterdam, John and Yoko went to Vienna where they spent the night at the Hotel Sacher and enjoyed some of the famous Sacher Torte, which is a rich chocolate cake.
On April 1, the couple arrived back in London, and gave another press conference at the airport. Because Yoko was a foreign divorcee, they were not sure what type of reception they would have in London, being that many people believed Yoko was not the ideal Beatle wife. But do their delight, the reception at the airport was warm and accepted.
Upon writing "The Ballad Of John And Yoko," Lennon was in a hurry to record it. Having arranged the studio at the last moment, McCartney was the only other Beatle available. Consequently, the two of them recorded the song to completion in nine hours. On this song, Paul played the drums, piano, maracas and bass, while John played lead and acoustic guitars and sang the vocals. This song was the first song The Beatles recorded that was mixed solely in stereo. Although this would not be the last time that John and Paul worked together in the studio, it would be their last major collaboration.
In mixing and recording the song, Paul first played the drums, while John played the acoustic guitar for the basic track. Then the two Beatles overdubbed two lead guitar parts by John, then overdubbed the piano, the bass and percussion parts by Paul.
Upon its release in the United States, many radio stations refused to play the song because of the use of the word, "Christ," as well as people misunderstanding what Lennon was saying when he mentioned the word "peace." Many thought he meant "piece," having sexual connotations. Other radio stations played the song, but bleeped out the word "Christ."
And now, "The Ballad of John & Yoko"
Standing in the dock at Southampton, trying to get to Holland or France
The man in the mac said you've got to go back
You know they didn't even give us a chance
Christ you know it ain't easy, you know how hard it can be
The way things are going, they're going to crucify me
Finally made the plane into Paris, honeymooning down by the Seine
Peter Brown call to say, you can make it O.K.
You can get married in Gibraltar near Spain
Christ you know it ain't easy, you know how hard it can be
The way things are going, they're going to crucify me
Drove from Paris to the Amsterdam Hilton, talking in our beds for a week
The newspapers said, say what're you doing in bed
I said we're only trying to get us some peace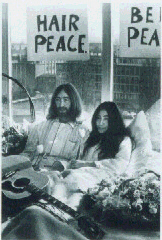 Christ you know it ain't easy, you know how hard it can be
The way things are going, they're going to crucify me
Saving up your money for a rainy day, giving all your clothes to charity
Last night the wife said, oh boy when you're dead
You don't take nothing with you but your soul, Think!
Made a lightning trip to Vienna, eating chocolate cake in a bag
The newspapers said, she's gone to his head
They look just like to Gurus in drag
Christ you know it ain't easy, you know how hard it can be
The way things are going, they're going to crucify me
Caught the early plane back to London, fifty acorns tied in a sack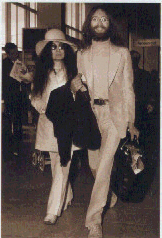 The men from the press, said we wish you success
It's good to have the both of you back
Christ you know it ain't easy, you know how hard it can be
The way things are going, they're going to crucify me
The way things are going, they're going to crucify me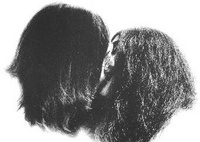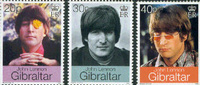 ---
NOTE: All lyrics contained herein are ©Copyright Northern Songs. All Rights Reserved. International Copyright Secured. The lyrics contained herein are for the sole use of educational reference for the readers of this article. All other uses are in violation of international copyright laws. This use for educational reference, falls under the "fair use" sections of U.S. copyright law. Copyright © 2000-2022 by John T. Marck. All Rights Reserved. This article and their accompanying pictures, photographs, and line art, may not be resold, reprinted, or redistributed for compensation of any kind without prior written permission from the author, or the registered copyright holders. Except as otherwise stated above, all information contained in this article, EXCEPT song titles, lyrics, and photographs © John T. Marck.
---
A Splendid Time Was Guaranteed For All