The Beatles British EP Collection
Part 29
by John T. Marck
Twist and Shout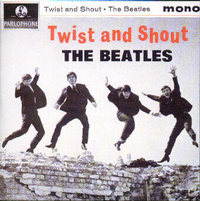 The first EP issued by The Beatles on July 12, 1963, was called Twist and Shout. It contained the following four songs:
Twist and Shout
A Taste of Honey
For additional information on There's A Place, and Do You Want To Know A Secret, click on the titles above. To look at the full length album that contains all the above songs please see:
Oh Look Out! Songs and Albums of The Beatles, Part 1, Please Please Me, or click on the link below.
All lyrics & song titles contained herein by John Lennon & Paul McCartney © Copyright Northern Songs. All Rights Reserved. International Copyright Secured. The lyrics contained herein are for the sole use of educational reference for the readers of this article. All other uses are in violation of international copyright laws. This use for educational reference, falls under the "fair use" sections of U.S. copyright law. Copyright © 2000-2022 by John T. Marck. All Rights Reserved. This article and their accompanying pictures, photographs, and line art, may not be resold, reprinted, or redistributed for compensation of any kind without prior written permission from the author, or the registered copyright holders. Except as otherwise stated above, all information contained in this article, EXCEPT song titles, lyrics, and photographs © John T. Marck.