The Beatles Necktie Collection
By John T. Marck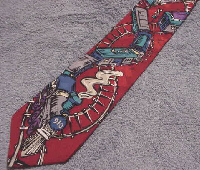 In the early 1990s, the Manhattan Menswear Group issued many Beatles' neckties that represent Beatles' songs. Because the ties are so fascinating and nicely done, I have decided to show them here. Like The Beatles themselves, many of the ties contain subtle clues of the song they represent!
Another collection was that of Ralph Marlin. These ties generally represented Album names such as Sgt. Pepper, Yellow Submarine, The Blue Meanies, Signature/Photo ties and more! All ties are copyright Apple Corps Limited.
NOTE: All song titles represented herein through The Beatles Necktie Collection are © Copyright Northern Songs, Music Sales Group, Ltd. All Rights Reserved. International Copyright Secured. The songs of The Beatles, words and music, © Copyright John Lennon and Paul McCartney or George Harrison, or John Lennon, Paul McCartney, George Harrison and Richard Starkey (Ringo Starr) © Copyright Northern Songs, Music Sales Group Ltd. The song titles and lyrics seen elsewhere on this site or on other of my sites, and/or contained herein are for the sole use of educational reference for the readers of this article. All other uses are in violation of international copyright laws. This use for educational reference, falls under the "fair use" sections of U.S. copyright law. The Beatles ® and The Beatles & Co ® and Apple Ltd. ® are registered trademarks of The Beatles. All information contained in this article, except song titles, © Copyright 2002- 2022 by John T. Marck. All Rights Reserved. This article and their accompanying pictures, and photographs, may not be resold, or redistributed for compensation of any kind without prior written permission from the author. All Neckties are © Copyright Apple Corps Limited.
A Splendid Time Is Guaranteed For All